C4 Original
C4 Original
პროდუქციის კოდი:
810390025411
ხელმისაწვოდმია:
მარაგშია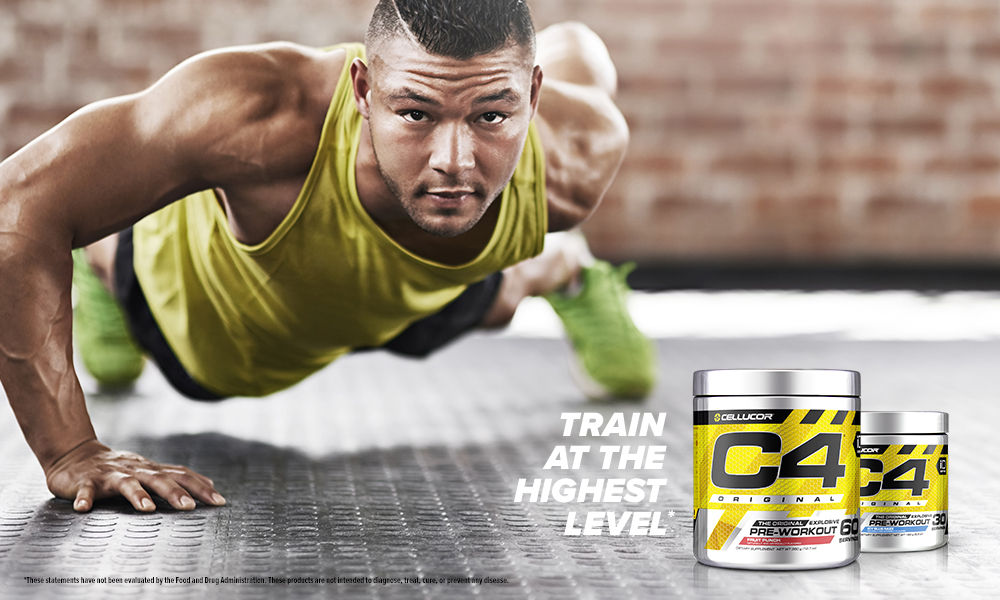 Cellucor Product C4 is an explosive pre-workout supplement that gives you the power for the toughest workouts. C4 contains components for energy and focus, thanks to which you can experience the most legendary workouts.
Energy: Do not get tired during intense training. Feel the pace from the very beginning of the workout to its end with the help of C4. With a formula containing a mixture of Explosive Energy, which contains caffeine, vitamin B12 and clinically tested TeaCor (TM), you will get through the toughest training with extreme energy and achieve results from the next level.

Focusing:Poor focus during training can be the difference between the means and the highest effects. Stay in the zone with the help of C4. Our formula contains a critical dose of B vitamins and amino acid L-tyrosine so that you can persevere in training when you give it your all.

Pump: When you train hard, you want to maximize the potential of your body to translate into results. Turn on the pump. Put simply, the pump is the result of a rapid influx of blood, oxygen and nutrients to working muscle tissues. Formula C4 contains the essential amino acid, L-arginine, as well as nitrate (NO3) in the form of creatine nitrate, which will help optimize the feeling of great, great muscles, and more importantly, maximize your results!

An effective and completely safe, patented composition

The feeling of an amazing, tearing muscle pump

Additional stimulation and energy for training
30 Servings
Cherry Limeade
Serving Size: 1 Scoop (6g)
Servings Per Container: 30
Amount Per Serving
%DV **
Vitamin C (as Ascorbic Acid)
250 mg
417%
Niacin (as Niacinamide)
30 mg
150%
Vitamin B6 (as Pyridoxal-5-Phosphate)
500 mcg
25%
Folic Acid
250 mcg
62%
Vitamin B12 (as Methylcobalamin)
35 mcg
583%
CarnoSyn® Beta-Alanine
1.6g
†
Creatine Nitrate (NO3-T™)
1g
†
Arginine Alpha Ketoglutarate
1g
†
Explosive Energy Blend
425mg
†

N-Acetyl-L-Tyrosine, Caffeine Anhydrous (150mg), Velvet Bean (Mucuna pruriens) seed extract (standardized for L-Dopa), Theacrine (as TeaCrine®)

† Daily Value not established.
Other Ingredients:
Malic Acid, Natural Flavors, Citric Acid, Silicon Dioxide, Sucralose, Calcium Silicate, Acesulfame Potassium, FD&C Red #40.
RECOMMENDED PORTIONING
Mix 1 serving (1 scoop) Cellucor C4 with 114-170ml of water for 20-30 minutes before training.
Once the tolerance has been determined, and you are looking for an additional boost of energy, take an extra portion (1 scoop) with the portion used before the workout.

DO NOT EXCEED 2 MEASURES DURING THE DAY.

During training, it is recommended to drink large amounts of water or isotonic beverages.
Some people may experience a non-lethal tingling sensation that is associated with beta-alanine.
Warnings: A PRODUCT INTENDED ONLY FOR HEALTHY ADULTS ABOVE 18 YEARS OLD. Do not use by pregnant or breast-feeding women, as well as by people using nitrates for chest pain or erectile dysfunction medicines, e.g. PDE-5 inhibitors. Before using the product, consult a physician if you use: antidepressants such as MAOI (monoamine oxidase inhibitors) or SSRIs (Selective serotonin reuptake inhibitors), thickeners, non-steroidal anti-inflammatory drugs, pseudoepinephrine, or other dietary supplements or other over-the-counter medications, or you suffer from high / low blood pressure, diabetes, glaucoma, anxiety, cardiovascular system, epileptic seizures, mental illness, cardiac arrhythmia, stroke, heart disease, liver, kidney or thyroid problems, problems with urination due to prostate hyperplasia. The product contains caffeine and should not be used by people who want to eliminate caffeine from their diet or in combination with caffeine or stimulants from other sources, including: coffee, tea, baking soda and other dietary supplements and medicines. Do not use for 2 weeks before surgery. Consult a physician immediately if adverse reactions to the product occur. Do not exceed the allowed dose. Use only as directed. Do not use if the protection has been interrupted. Store in a cool and dry place. KEEP AWAY FROM CHILDREN. Consult a physician immediately if adverse reactions to the product occur. Do not exceed the allowed dose. Use only as directed. Do not use if the protection has been interrupted. Store in a cool and dry place.